Some Western Australian History
&
Some Family History
&
Some More
Will Bowden - Lineman
by
The Start Of It All
Below is as much as can so far be discovered of the life in Australia of my uncle, William James Bowden. Although himself a Londoner, his grandfather James Friendship Bowden was born in
Hatherleigh
, Devonshire and the family roots go back deep in that area. The partial log (below) of his journey from England in 1912 with his wife and two children was posted back to his youngest sister, Ivy, in Welling, Kent, England, probably from Cape Town.
This sister was my late mother. The log and letters had been kept amongst her papers and I discovered them only after her death. Unfortunately the second half of the log, which Will promised to send on arrival at Fremantle, was not there.
My mother was nine years old when her eldest brother sailed for Australia and the difference in their ages meant that his first two children, Jack and Doris, were of about her own age. Doris and my mother were dear friends. Two of the letters from Will to his sister back in England are shown below, giving evocative descriptions of his new life in the outback, plus photos of himself and his camel team. I treasure the originals of these as well as loving letters from Doris, full of a young girl's chatter and interchange of news.
My mother lost contact with Will many years ago, but after my discovery of these papers I resolved on an attempt to track down his descendants. Many trawls of the internet failed to discover anything, and I posted a message on a genealogical site, with little hope of success. Years went by - nothing. Meanwhile I subscribed to a monthly Aussie genealogical magazine. One issue gave the URL of the WA cemeteries board. I put in Will's details. Success. Then his wife's, and finally the eldest son. All three were there, cremated at Karrakatta cemetery. I sent for copies of the cremation forms and one set me on the trail of Doris. This proved more difficult.
Then, in July, 2005 arrived an email from John Luyer, whose website this is. He had caught my posted message mentioning Mundiwindi, one of the places he was researching. I related what little I had discovered to date, but from that he worked on tracing Will's movements and moreover found uncle Will's only surviving child, my cousin Elsie who was born in Australia, and her granddaughter Victoria. -
Ivy Collins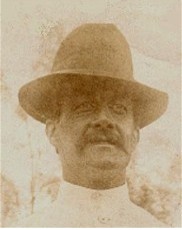 William (Will) Bowden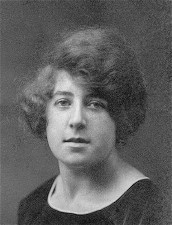 Will's sister, Ivy
William James Bowden was born at St. Pancras, London, England on 5
th
August 1882 and came from a Devonshire, England,
family
which can be traced back to the mid 17
th
century through the male line.
I.C.
He married Fanny Manwaring White on 1
st
June, 1901, at the Register Office at Woolwich, London.
I.C.
Their first child, John (Jack) William James was born on the 18
th
March 1902.
I.C.
and was followed by the first of three daughters, Doris Irene, who was born on 24
th
September 1904
Memorial plaque.
Then Phyllis Gladys was born in the first quarter of 1908 with the birth being registered at Dartford.
GRO.
but she died of pneumonia before her second birthday.
Martelli, Clarke.
Their next child was William (Billy) Friendship Wybrow. Billy was born 15
th
December, 1910 at Welling, Kent and died 11
th
August that same year.
I.C.
Cause of death was complications resulting from a smallpox inoculation he was given in preparation for the family's emigration.
Clarke, Martelli.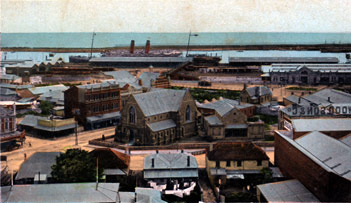 View of Fremantle Harbour ca 1912
Will was nearly thirty when the family emigrated to Western Australia, leaving Tilbury, Essex on the 30
th
March 1912 on the SS "Australind" and arriving at Fremantle on the 18
th
of May. Will was described as "Agricultural".
WAGS.
However, up to the time he emigrated, Will worked at Woolwich Arsenal.
S.S. AUSTRALIND
The name "Australind" has appeared regularly among "Trinder Anderson" ships.
Uren, photograph caption
..."Australind" signifies a connection between Australia and India. In the south-west of Western Australia, near Bunbury is a town called Australind, but the duplication of names is considered to be purely coincidental.
Uren, photograph caption
WOOLWICH ARSENAL
Woolwich, in south-east London, lies on the south bank of the River Thames, and the Arsenal which William Bowden referred to had been an armaments depot since the time of Henry VIII. I lived at Plumstead, a mile along the river and part of the then Woolwich borough, (all of it now part of Greenwich Borough). The guns manufactured at the Arsenal were tested on the firing ranges at Plumstead marshes, and I can recall as if it were now the days when heavy artillery was being fired and local houses in the area shook with the reverberations. The first one of the day made us jump, but after that we scarcely noticed them.

Will worked at the Arsenal up to the time he emigrated, and many other members of our family were employed there, including his young sister Ivy. Another sister suffered from cordite poisoning and as a result had a yellow complexion for the rest of her life.

Most of the Arsenal was shut down after WW2, and eventually the whole massive site was sold by the Government. Some areas were used for general industry for a time, but it has now become a "desirable" residential area. In the 1970's the new town of Thamesmead was created on Plumstead Marshes.

Arsenal Football club was formed in the late 1800's by Arsenal workers, although they soon moved their ground to Highbury, elsewhere in London. Their origin is still commemorated, however, in their nickname "The Gunners". - Ivy Collins

An Arsenal website:




Will wrote a log of the journey, part of which survives.
MY EXPERIENCE ON S.S. AUSTRALIND
As Emigrant to Fremantle, Western Australia
Saturday March 30th
Left Welling at 9.9 a.m. for St. Pancras, departed for Tilbury 11.0 a.m. reached there at 11.45 boarded tender about 12.15 for steamer which lay out in river (after taking farewell of relatives) examined by doctor after about 2 hours delay then spent about an hour finding cabin boxes etc. which were in a good many instances in anyone's cabin but the rightful owners. Talked with new chums in cabin and found them a peculiar mixture but jolly fine fellows for all that. 3 Yorkshire men, 1 from Sussex (a lad of 16), a broth of a boy from Tipperary and 3 from London, one of whom turned out to be an Arsenal man who knew my face but I failed to recognise him. We immediately chummed up, one of the Yorkshire lads is very noisy and very witty and is already a favorite.
[sic]
At 4 p.m. we sat down to a meat tea. We got under way about this time and as soon as possible we got on deck and enjoyed a very pleasant passage down the river and after getting well started in the Channel we turned in at 11.15 p.m.
Sunday Mar.31st
Turned out of bunk about 7.0 a.m. and went to see the wife whose cabin is opposite my own, found we had a great amount of freedom to what is allowed on other boats (women's cabins are on the port side and men on the starboard). Can see wife at any time if she is in her cabin by knocking at her door; she had 4 women and 8 children in her cabin (an 8 berth) but they complained to the matron who had two children (boys) shifted into their father's cabin where they had 2 empty bunks. My cabin is small with 8 bunks but I have a top bunk with porthole at my head which we keep open day and night and I can look out while laying
[sic]
in bunk which is very pleasant. As we proceeded down channel people started being sea-sick but we are all-right so far. Sighted Brighton, Isle of Wight and many other sea-side places until 9.30 p.m. when Plymouth was sighted. Most beautiful sight I have seen up to now, 3 lighthouses with lights of town in background and 10 warships of various kinds nearly all being lit up. Pilot rowed out at 1 miles in little boat and took us to anchor in harbour which we dropped at 11.5 p.m. almost like day, cloudless sky and almost full moon. Turned in at 11.25 p.m.
Monday 1/4/12
Turned out at 6.0 a.m. strolled round deck with chums being allowed full run of ship even the fo'castle. Must speak in greatest praise of officers and crew alike who are most kind and obliging. We have a mixed crew germans
[sic]
, danes and english but must say they are some of the best. I find life so far one long round of happiness. Wife feeling a little sick & both children been sick but they play again directly afterwards. Food everything to be desired & plenty of it but we are rather short handed with stewards & those we have being passage workers & consequently not up to the work we all help a little & make meals go with a swing. I have never eaten so much in my life & the wife; well I am ashamed of her, a regular glutton, a sample of our menu will no doubt be interesting.
8.0a.m. Breakfast:- Porridge and milk, stew & boiled potatoes (always in their skins) bread & butter & jam & plenty of it, tea & coffee.
1.0 Dinner:- Soup & bread, stewed steak, potatoes & greens, apricots & shortbread
5.0 Tea:- Cold beef & pickles, Bread & butter, marmalade, tea & coffee 8.0 Supper cheese & ships biscuit sometimes soup & bread (but those ships biscuits, ugh, my poor teeth but we enjoy munching them on deck).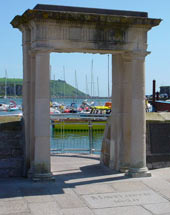 MAYFLOWER STEPS
As Will and his family gathered here at Plymouth harbour in 1912 waiting to be taken back to their ship, perhaps they looked at the stone laid in 1891 by descendants of the Pilgrim Fathers, and thought of the courage of those earlier pioneers who sailed from here in the Mayflower on 6 September 1620 en route for America. The Mayflower Steps commemorative arch was erected in 1934.
I.C.
A notice was posted up that a tender engaged by the ship would take us ashore & back at 9.0 a.m. free of charge returning at 4.0 p.m. (during coaling) which you may be sure we all took advantage of. Wife, children & myself with my Woolwich chum (Charlie Deane) spent 7 hours in Plymouth & Devonport & then returned to tender at 4.0 p.m. loaded with oranges lemons biscuits bananas etc & a deck chair for wife. After tea we were on deck watching the last of the coaling (800 tons of Welsh steam coal at 3 per ton) which has to last us until Cape Town is reached as we do not call before. At 8.0 p.m. (Plymouth time) we weighed anchor & started on our long trip amid the cheers of the colliers who had coaled us - which cheers we heartily returned. The warships played on us for about 2 or 3 miles to sea & we stood on deck amid perfect weather & watched Old England fade away with feelings that are indescribable. Tis then you feel more the parting with your relatives your father & mother & your old comrades with all you hold dear & the happy times you have spent with them but this feeling, although never forgotten, passes away as after a time you get into conversation and talk of the times to be. We then turned in at 11.0 p.m.
Tuesday
On deck at 6.0 a.m. & spent morning sorting out boxes & making things comfortable in cabin. Sighted Ushant off coast of France at 7.0 a.m. also saw a steamer with a breakdown, but nothing serious as we continued on our way, also passed 2 cargo steamers Wangaro & Rouen. After tea took to Fo'castle & gave 2 songs myself, crew also obliging with two songs and selections from their band composed of an accordion, a bottle with a spoon rattled in it, a kind of triangle & the end of a broom scratched on the floor to represent a base instrument & an excellent band it made in spite of the incongruity of the instruments. Seas now beginning to run high & wash over deck but weather keeping delightful, moon at night & brilliant sun by day & cloudless sky. Ship rolls rather bad & we are having some crockery smashed in pantries & passengers who venture on the windward side are occasionally swamped which causes great fun but no one seems to mind. We have the awnings out & passengers are beginning to sleep out. Was given a pound of shag by one of the crew which cost 1/0 per lb. at Antwerp best tobacco I have ever had, also another gave me lb. cake tobacco (ships) so have enough to go on with. Promised some more when this is used.
Wednesday, 3/4/12
On deck at 5.30 a.m. seas running very high before wind but weather otherwise perfect. People getting used to rolling and sickness nearly stopped. We are holding a whist drive draught and domino tournament today. Formed a games committee and we are arranging sports for whole of this week. Refreshment bar and shop opened today, famine prices, oranges & apples 1 each lemons 1d. biscuits 1/8 per lb. Ind Coopes beer (light dinner ale) 6d. pint no spirits. Oh for ten minutes in the old "Square"
[Beresford Square, Woolwich, site of a large permanent open-air market. I.C.]
. Plenty of boiling water always ready day and night for tea. A lot of flirting goes on especially married women going out to their husbands. Women are allowed to stay on deck & sleep all night which I don't consider just the thing as all electric lights on deck & in cabins are switched off at 11 p.m. Of course it is stifling during this heat at night but lights should be kept going on deck if single men & women sleep together. Ran out of the "bay" about 5.0 p.m. watched moon rise & about 8.0 p.m. wind dropped & we ran into smooth water. Stayed on deck with my chum Deane my wife & her lady friend & very reluctantly turned in at 11.50 p.m.
Thursday
on deck at 6.0 still cloudless sky & smooth sea, after breakfast of sausages (4) potatoes stew bread butter & marmalade tea & coffee played dominoes & cards on deck. Sun is now getting very hot, shed all clothes except trousers shirts & carpet slippers & sombrero, no socks or coats waistcoats etc. We are now organising a series of games & contests & captain has promised us assistance of crew & any materials we require. He is trying to make life as comfortable as possible. Our vessel is 5583 tons & carries 408 passengers (only one first class, a government official) 118 children who nearly drive me mad. Inspection every morning 11.0 o'clock when every cabin is visited. The coal we took aboard at Plymouth is turning out very poor stuff & although under forced draught the most we have made is 12 miles per hour. We have found out we were in difficulties on the Goodwin Sands during Saturday night but got off alright.
[Shifting sands lying off the Kent, England, coast at the northern end of the Dover Straits. A major threat to shipping.]
All sea sickness has stopped aboard. Concert passed off very satisfactory this evening but seas beginning to rise towards evening. Turned in early but could get very little sleep through rolling of boat. All ports closed & bolted down.
Friday
Turned out at 5.0 seas running higher & sickness returning, wife sick but children & myself in best of health. Young woman thrown on deck by rolling & shoulder dislocated which was soon put right by doctor. We have been off West Coast 2 days & although a good distance away a beautiful bird a little smaller than a parrot has been with us since yesterday and is so tame that it flew into Jacky's hand for some cake but no one is allowed to touch it as it is considered an omen of good luck by the crew. The sea is now running mountains high & is a glorious sight to watch but ship rolls very badly, decks at times level with water which is a fine sensation except to those sick. Captain has given the children some new in. rope for swings & skipping ropes. Hot cross buns for breakfast & tea, great fun caused by baker's galley being washed completely out by huge roller. Turned in at 10 o'clock but disturbed during night by rolling of boat which is worse than ever.
Saturday 6/4/12
out at 7.0 weather much calmer & seas settling down. Slight breakdown of engines for 2 hours this morning my chums brought out their fishing lines & we had a bite about as large as a cod but line broke so we lost fish, hook & all. We then got underway again so had to finish up our sport. We are now getting first heats over of the sports. Sighted liner this morning first boat for 2 days. Hungry all day now, had about 1 lbs. of cold meat for my supper which I saved from tea table. We had smoking concert amidships from 7.0 to 10.0 surprised at talent aboard some very good voices & comedians also some mando's
[mandolins?]
violins and plenty of pianists. A little scotch girl of ten danced some reels also we have a very witty old chairman (a press correspondent). A good many Socialists aboard nearly everyone I have spoken to admits the soft impeachment. Slept on deck all night but was disturbed by crew at 3.30 a.m. washing down decks so had to shift our quarters to hatchways.
Sunday 7/4/12
went below at 6 a.m. & bathed, which I do every morning (sea water laid on in baths). Our steward brought us in a pot of tea in cabin which he has done for some mornings now. Then went above sighted Las Palmas at 7.0 a.m. very pretty sight with glasses (about 6 mile off) mountains towering to clouds. Great fun for children this morning caused by flying fish which look like long dragon flies. They leap into the air about 3ft. & travel I should think about 50yds. before dropping. During afternoon ran into a school of dolphins who played round the bows for an hour & raced about like mad things leaping right out of the water, which passed away afternoon (with a snooze in deck chair). We have also seen a whale spouting about mile away. Service this morning & sacred concert this evening. A grand sight this evening watching phosphorus on foam churned up by bows of boat like myriads of stars some pieces as large as a dinner plate. I am surprised at great waste of food aboard all bread & butter, dinners, etc. out & not eaten goes overboard with the scraps. Turned in at 9 p.m.
Monday 8/4/12
Turned out at 5 a.m. sighted boat about 2 miles off. 4 mile walking race commenced at 7.30 a.m. 32 times round ship. Squared steward & now get all kinds of luxurys
[sic]
for our family. Tug of war between passengers & crew also married versus single. Gave 2 more songs at concert but fed up with them, concerts every night is too much. Good lending library aboard also plenty of dominoes draughts cards etc. served out by Captain.
Tuesday
On deck 7.0 a.m. not much to report today. 6 sets of deck quoits served out by Cap which are being well used. One of the crew caught sunstroke this morning & is laying
[sic]
in high fever in hospital. Took my little Doris to have tooth drawn by doctor. Slept rest of day on hatches.
Thursday
Slept on deck all night but could get none until 12.0 o'clock owing to singing & pillow fights. Up at 3 30 when decks scrubbed but made up for this by sleeping all day in deck chair. My Jack fell down stewards' companion way & has a 2 in. split in his cranium but the doctor patched him up all-right. Mercy he never broke his neck or limbs.
Friday 12/4/12
Visited stokehole with my chum & was invited by stokers to take a 4 hour stretch which we promptly accepted (trimming & stoking) stuck it like heroes & came up like niggers. Held a dance in evening but things getting rather monotonous sea & sky, night & day, cautioned not to waste fresh water as supplies running short also coal running low.
Saturday 13/4/12
Crossing line tomorrow received Cablegram from father Neptune that he would visit our ship on Monday with his full court to welcome ? his new subjects. Being very pally with crew I was of course warned to prepare myself for presentation to his majesty on this auspicious occasion which I gladly consented to do. Had great fun all afternoon by pillow fight on greasy pole over sail swimming bath.
Sunday 14/4/12
Divine service in morning & evening. Passed day reading & sleeping. Crossed line at 1.30 p.m. but weather mild considering situation
Monday
as promised Father Neptune came aboard to find subjects .(or shall I say victims) to be presented to his Majesty. We organised an obstacle race but of course never told the entrants of our object & told them to be ready dressed in pants & undervest only at 2.20 p.m. Neptune came aboard with his court composed of himself, wife, his doctor chief of police 6 constables, barber, his assistant & four men dressed as sharks. The police immediately seized the obstacle racers 10 in No. who were the first to be presented which will be fairly well illustrated if I give my own experience. 1st you are presented to his majesty who shakes you by the hand & you are then passed on to the doctor who after thrusting a great thermometer down your throat & feeling your pulse decides on what treatment you require. Some are given a dose of medicine composed of tea coffee pepper vinegar mustard & several other ingredients. Some have teeth supposed to be drawn. I was given 2 pills as large as marbles which I took good care to spit out at first opportunity as it is made of soft soap covered with sugar A large handfull
[sic]
of marmalade was then smacked on my chest & well rubbed in. A plaster of the same material was then put on my back & I was ready for the barber. I was led to the fatal chair which is hinged on to the edge of the swimming bath in which Neptune's 4 sharks are swimming about. After a pretence at cutting your hair with garden shears the barber proceeds to lather you with a white wash brush (the lather being composed of flour & water & treacle) & right well he does his work. Putting on a layer about 1 inch thick all over your face & head & woe betide you if open your eyes or mouth an handful of this fearful mixture is immediately thrust in. You are then shaved with a razor about 3 ft. long, the barber shouts right, backwards tips the chair & you are shot into the bath where the sharks seize you & give you a most awful ducking, this is supposed to be a shampoo after which you are a full blown subject of Neptune. I stayed in the swimming bath after the sharks had done with me and started floating on my back but there was a lull in the proceedings so they seized on me again & gave me a second ducking to the great delight of the audience. I thought discretion the better part of valour so clambered out. Meanwhile the police were searching down below & arrested anyone they found there and after giving them time to change they were put through the mill. There were 24 victims (sorry I meant subjects) who provided 3 hours jolly good fun carried through with the best of good feeling no one cutting up rough. After we had all been presented I suggested to my fellow subjects that Neptune & his court should be put through it so we raided them & pushed them in the bath & had a regular water Carnival jumping in with them ourselves and am pleased to say that the only casualty we had was the first class passenger who got a crack on the head but was soon alright. I never had such a time in all my life.. I laughed till my sides nearly burst. The get up of the sailors who composed Neptune's Court was very good. Checksfield the Plumstead constable was one of the police. The rest of the week passed very quietly until Thursday when a notice was posted up that we should put into "St. Helena" owing to our coal & water giving out so turned in early as we arrive early on Friday morning.
Friday
On deck at 4 o'clock a.m. & sighted "St. Helena" right ahead a very beautiful and welcome sight as we have really not seen any land since leaving Plymouth, Ushant & Las Palmas being a good distance away when we sighted them. We watched the sun rise & touch the high mountain tops turning them to gold, the island is composed of rock but is fertile in the centre, oranges, bananas, guavas and all kinds of fruits being grown there. The island is 27 miles in circumference.
As soon as we dropped anchor a number of boats put off from the island one with the port doctor in, who after questioning our doctor allowed them to come aboard. Their baskets were filled with fruits of various kinds sweets tobacco cigars cigarettes etc. and a variety of articles such as belts purses bags necklaces etc. made from native seeds & berries, samples of this work I have enclosed. Fruit was very cheap for a start but prices soon went up when the demand exceeded the supply so I waited until just before we weighed anchor and got things very cheap, pears twice as large as a tea cup 25 for 4d. guavas a peculiar fruit which hardly anyone liked 4 for 1d. One black woman offered me a sack of pears over 100 for 1/6, pears which would fetch 8d. each in London. These natives were a very nice people & would bring anything from shore for us we cared to order from the shops.
We were greatly disappointed because the Captain would not allow us ashore. The water was so clear here that the bottom could be seen, when anything was thrown over shoals of fish would soon be after it. The sea here is infested with sharks going about in shoals. We left "St. Helena" Friday evening amid the singing of the negresses & negros who speak perfect english
[sic]
. They asked us to sing various songs, and they would join in the chorus most heartily, which sounded very sweet as they rowed away shorewards in the darkness of the evening, no moon being up, their voices dying away in the distance. I felt that I should like to live for a time with these kindly honest folk whose quiet life is only broken once a month by the mail steamer or an occasional warship or mayhap a ship in distress. Twas here that we got the first news of the loss of the Titanic.
Time seems to drag occasionally, now a quiet game of cards or dominoes, a chat with one or two strangers you have not conversed with before, or a sleep, seems to be the order of the day. Am sorry to say that a little unpleasantness has cropped up occasionally at the meal tables usually caused by Yorkshire people, of whom we have a large number aboard. I must say these are by far the worst people on the boat very uncouth & piggish at meal times "all self" sums them up. Have done a few turns at stoking & helping carpenter or blacksmith to pass away an hour or two & have thereby gained admission to their mess where I can have supper every night. The stokers on this ship live like fighting cocks all joints etc. from officers' table being given cook for their supper. Last night (Thursday) I had a leg of duck & about 1 lb. of steak with chip potatoes when I had my supper with them. Sorry to say that a woman has fallen down the hold & being rather heavy it made it bad for her but she is progressing favorably, one of the stewards unfortunately slipped yesterday & injured his back & stomach. I think I will conclude as we are nearing Cape Town & we are all eager to get a glimpse of land. We expect to sight it at 4 o'clock this afternoon.
Friday 26/4/12
Will forward you rest of diary of trip from Fremantle. Best respects to all my old comrades in the Arsenal.
S.S. AUSTRALIND
The Australind of 7,500 tons, commanded by Captain A Hunter, arrived at Fremantle on Saturday from London. She left Plymouth on April 1, coaled at St Helena on the 19th, and again at Cape Town on the 28th. She brought with her 492 immigrants, all of whom are for this State. The majority of the passengers were women, coming to Australia to join their husbands and bringing with them many children from the age of three months upwards. One hundred and seventy six of the small passengers were under 12 months, and of the complete register of immigrant passengers 377 were nominated. Among the 6,200 tons of general cargo carried by the Australind are the parts of nine heavy weight locomotives for the West Australian Government Railways. Some of the locomotives were to be placed on board the Ashburton, which arrived some days ago at Fremantle, but at the time the vessel was in Plymouth a strike of wharf labourers rendered impossible the shipping of this cargo. The Australind's trip was uneventful and good weather was met with all the way out. She will remain in Fremantle for a fortnight, and then go east via Albany. This is the Australind's third journey with immigrants, and the Ajana which is building to the order of the company will shortly be in commission for the trade.
The West Australian, 20 May 1912 p6
Like Will, Charles Deane was described as "agricultural" in the passenger list. Constable Albert Checksfield was travelling with his wife, Patience, their son Albert and two daughters.
Passenger list.
Note that the hand written passenger list appears to read "Checkfield", but the spelling adopted here is Checksfield as used by Will Bowden and various electoral rolls.
It appears that the Bowden family lived at 83 Stone Street [West] Perth before moving to Lyle Street in Belmont. Will's occupation was given as carpenter.
Electoral Rolls.
The family moved to a "little farm" in Central Avenue, Redcliffe on what was marketed as the Flemington Estate and Grace Elsie was the first baby to be born on the estate.
Doris Bowden.
The Flemington Farmlets were advertised as being from three and half acres upwards. They were available for 2 deposit and 1 per month and considered "suitable for dairying, orchards, poultry farms, piggeries etc."
Laurie p12.
Another section of the estate was advertised with "Good sites for Market Gardens, Poultry Farms, Orchards, Bee Farms. It was also stated that "We can not sell less than four blocks to one customer." Four blocks together comprised nearly an acre. Transport was available on the motor charabanc.
Hope & Klem (a)
In 1917 the farm was sold (presumably the one on the Flemington Estate) and the family moved to Victoria Park for a short time.
Bowden, Doris
. However, by March 1918 Will was giving his address as Gwenyfred Road, South Perth. The family resided there for many years. [It is possible that Gwenyfred Road was considered to be in Victoria Park because, in 1945 the boundary ran down the centre of Berwick Street. Berwick Street is parallel to Gwenyfred and the next street to the north]
Gwenyfred Road was part of the Conwil Estate "on the boundary of Victoria Park Municipality." "Magnificent views from some Lots, of Perth, Victoria Park & Ranges". "2 miles from GPO Perth, & only mile from Victoria Park PO. 800 yards from Victoria Park Tram along Rathay Street". "Blocks 15 2 deposit Balance 20/- monthly."
Hope & Klem (b)
William James Bowden
Gwenyfred Street, South Perth States:-
Whilst swimming at Lucky Bay, Applecross on Saturday 2/3/18 between 2 and 3 o'clock, I saw what appeared to be an aeroplane at a great height apparently over the Wireless Station.
I had it under observation about ten minutes. It was moving nearly all the time (almost stationary a very short time) and was lost to view by mounting higher. It vanished quite suddenly.
I have previously seen a fair number of aeroplanes in flight in England. My son also saw the object; he agreed it was an aeroplane in flight, and not a kite or bird. He also saw the
"Kalgoorlie" machine
in flight.
Two ladies also saw the object.
I will get their names and addresses and send them in. They were sure it was an aeroplane in flight.
Perth 4/3/18.
[Signed] WJ Bowden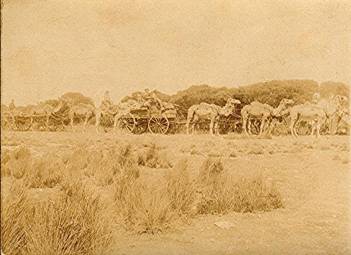 Will's camel team at Christmas, 1918.
Location unknown, but possibly Eucla.
Will commenced with the The Postmaster-General's Department (PMG) as a lineman on the 14th March 1914. It is known that he was based variously at Eucla, La Grange and Mundiwindi (1925). It is thought that one of the first places that he worked in WA was Eucla and that he was based there for about four years.
Eucla is in Western Australia, close to the South Australian border. It is on the edge of the Nullarbor Plain, on the Great Australian Bight. In 1841, Edward John Eyre on his journey from Fowler Bay in South Australia to Albany in Western Australia was the first European land explorer in the area. Eyre did not record any name for the area. Eucla is assumed to be a form of an Aboriginal name for the area, "Yinculyer", which one source gives as referring to the rising of the planet Venus. Another local Aboriginal name for the area is "Chinialla".
DLI
The survey of the interstate telegraph line from Albany to Adelaide during the years 1873 and 1874 identified the need for a town at Eucla. The telegraph line opened in 1877, and the Eucla telegraph station was one of the most important on the line. The original settlement was abandoned due to the encroachment of the sand dunes.
DLI
In 1927 the Eucla Telegraph Station was abandoned.
Moyal p60
The author of this quote was stationed at Eucla from the end of 1895 for at least eight years:
Two linemen were attached to the station [Eucla]. One patrolled the Eastern Section of 116 miles; the other attended to the maintenance of the two distinct pole routes from Eucla to a point 110 miles west. It was customary for the W.A. lineman, with a native, to make the coastal inspection on the outward trip, and return along the inland circuit, covering a total of 230 miles.
Lawrence p46
At the end of 1924, William Bowden was assigned to Mundiwindi, between Meekatharra and Nullagine. This was probably to take the place of another lineman, William Hollingsworth (28.9.1875-?), who had taken extended sick leave.
LETTERS HOME
P.O. Mundiwindi
Via Meekatharra
Nor-West Australia
1st Jan 1925

My Dear Sister
In answer to your welcome letter dated 4th Nov.
You shall have the first letter I write this year and all to yourself, (although I doubt not you will pass it on to mother all the same). I had some nice snapshots of various kinds taken round about here, but sent them to Perth only a few weeks ago, but will try and remember when I go home to send you some.
I am afraid dear, to write out my deeds as you call them would make very monotonous reading, as in these lonely places life goes on very placid for weeks on end, but occasionally we get a startling break, for instance, yesterday I was in our garden putting two natives to dig & weed a patch, when without a moments warning a dreadful wind & dust storm came up and nearly choked & blinded us my mate was near the house pulling up two bullock hides we had pegged out to dry, one flew up & caught him, & carried him along about 30ft & nearly dropped him down the well, & when we got to the house our gin (native woman) was in tears she had just finished laying the tea-table when the wind caught & blew it clean off the verandah (we eat live & sleep outdoors all the year) & broke all the crockery, & was afraid we should beat her for it. It is nothing to see sheets of iron (6ft x 3) & buckets 100ft in the air and limbs torn off trees like matchwood, so life is not all honey in the tropics, but we only laugh, one gets used to it.
New Years Day I went for a trip in our neighbours motor-car (our neighbour lives 90 miles away but spent Xmas with us and 9 others). The 12 of us got in somehow and drove out to a lake 20 mile from here duck & kangaroo shooting, & we had a fine time swimming etc, during the afternoon while we were laying in the shade one of the party spotted a big black snake on the bank, I and another chap grabbed sticks & went to clean him up, (I wanted the skin as he was about 8ft. long) & in my hurry I swiped him, but failed to notice how near the edge I was, it gave way & dropped Mr Snake and myself in about 17ft of water but he was quite harmless I had smashed his head to pulp & got an extra swim for my trouble & his skin too.
Snakes are very common & we often kill them even on our verandahs also scorpions and centipedes galore, yet with all the millions of snakes etc I have only heard of one person dying from snakebite all my years here in the State.
I don't know if you would class incidents such as these as adventures, but if it were not for these little breaks a man would go stark mad, in these lonely places, it breaks the monotony.
I could tell you some awful funny things I have seen happen & unfortunately some very tragic ones too, but it all goes to make up life I suppose, a different life dear to your own in England I can assure you, one cannot realize it until living it themselves, & yet I would not go back to the old life for all the tea in China, but of course it would not suit everyone & it is hell if one does not take to it.
A good few of the men in this wild north are like the country real wild, but with all their hard swearing drinking, and fighting, a better lot of men does not exist, everything they possess is at your disposal they would take the shirt off their back to give you.
I am afraid you would think it incredible but I have seen men come into a town from outback with a cheque for 200 & hand it over the bar of an hotel & tell the publican to tell them when it was cut out (finished) & then drink for their lives & buy up for everyone who likes to come along & in less than a week to be told it is cut out, the publican will sober them up & put a bottle or two of whiskey in their pack-saddle & start them off on their road outback again, (but some of them paint the town red in those few days believe me.) and back they go for another year or so & never a chance for a drink.
Well dear I will cease my chatter for the present.
I hope you & dear mother are quite well & pleased to say Fanny is a good deal better & the children & myself O.K.
I will close now with fondest love to you both, & the best of wishes & good luck in the New Year is the earnest wish of your loving brother
Will
The mate referred to was probably the senior lineman at Mundiwindi, Raymond John (Boysey) Cockram (18 December 1882 - 27 July 1940). Cockram received an annual "Native Allowance" of £35 to subsidise the cost of engaging the housekeeper.

The "lake" may have been an ephemeral one as there is no true lake within twenty-five miles of Mundiwindi. Lakes can form in this area after heavy rain (usually cyclonic) and last for long periods of time. Two other possibilities are Burranbar Pool which is 30km (18.6 miles) as the crow flies from the original Mundiwindi and Poonda which is 23km (14.6 miles). Burranbar Pool is on Savory Creek, which is the overflow from Lake Disappointment on the Canning Stock Route. Poonda is a rock pool somewhat smaller than Burranbar Pool.


P.O. Mundiwindi
27th April [1925]
My Dear Sister,
In answer to your welcome letter dated 16th March which I received 20th April, quick work dear considering it has nearly 1,000 miles to come overland after reaching W.A.
I am glad to hear you are both well & feel pretty good myself although I had a slight recurrence of Malaria last week for a few days, (I caught it at La Grange about 2 years ago you remember) but it wears off after 7 years.
It must have been a great sight to see the Arsenal fire but it was a mere spark dear beside a bush fire, it is one of the grandest & most awful things to see hundreds of miles of country ablaze.
Well dears I am afraid I have not much of interest to tell you except that last week I saw a mob of cattle (750) which a drover was taking overland 500 miles to the railhead, break away (or rush as they call it) one night last week, they may be all laying quiet during the night and two men are on night watch & everything silent in the bush & suddenly a twig will snap or a slight sound & in a second the whole mob are rushing stark mad like lightning, I heard a terrible roar & clatter miles away & hopped out of bed in time to see the whole thing in moonlight & they take everything before them small trees are smashed & if one falls it is a pulp in a few seconds, it is superb to see the splendid horsemanship of the natives & drovers trying to head them off, their horses know the work just as well as the men, but it is a terrifying spectacle, but I felt quite safe on the verandah as the house is over 4ft from the ground.
I am sending you a few mineral specimens I have picked up within a 20 mile radius of here (mineral of every sort abound) I hope they will interest you anyway you can say you have a bit of Australia, the slip of paper enclosed will describe them.
I promised I would tell you some of the pests we have to contend with so will do so now.
The greatest curse of all is flies the bush fly is exactly like the English house fly but the English one is an angel in comparison. After heavy rains when the grass is green they start & life is almost unbearable, I have to get the gin (native woman) to get everything ready quickly in the kitchen & then rush it into the office which is flyproof otherwise in 2 minutes there would be thousands in your food, & one could not eat a mouthful outside as they are in one's eyes ears & mouth like lightning as soon as one's hands are occupied & will not be driven off. Fly papers are useless as they are in swarms, then at sundown our old friend the mosquito starts but one can always beat him by hopping to bed under one's mosquito net.
Another pest is called the bung eye flies and he bites like lightning (usually the corner of the eye) and in less than five minutes one's eye is closed & puffed out like an egg, but they only seem to attack certain people. I have never been bitten by one myself but they trim some of the natives up.
Then there is a fly called the Policeman who kills the common fly in thousands, he is a friend indeed but will give one a severe bite if interfered with. An awful pest in some parts are called sand-flies, these are so minute that 20 may be biting one's hand at once yet it is almost impossible to see them they are very poisonous to most people & bring up big lumps all over them, but I can just feel their little bite only & no more, no bumps or hitching on me, there are hundreds of other species of flies but these are the main pests which interfere with humans.
Of ground pests there is of course snakes in plenty & of every description, scorpions & centipedes ( both poisonous) then there is another curse (although not alive) called hitch balls or bags, these are made by a certain kind of moth which fills it with powder & lays its eggs in it, & woe betide any unfortunate upon whom falls a bag (or powder it contains) off the tree, he immediately comes out in a terrible rash wherever the powder touches skin, & is nearly driven mad with the hitch, in a few instances they have proved fatal I believe, but although I have seen thousands, I have never, thank goodness, experienced the dust on my skin.
Of ants we have many varieties the fiercest being the Bull-ant the soldier & the sergeant ant all of which will attack if one goes near their nest.
Other varieties will swarm into the house ( if not built with ant stops) & get into jam or honey in thousands, another variety is meat ants which attack one's meat, others are called night ants & so on. Lizards & iguannas
[sic]
in many varieties, one called by the natives Bungarra, is when full grown, about as big as a young crocodile (Alligators abound in the Far North rivers where I was a few years ago) but none (except alligators) will attack unless interfered with. Some small varieties are beautifully marked & very tame, one at this very moment is catching flies on the wall of the room & lives in the house, a dear little fellow & so tame and only about 3in long but springs like lightning at flies (he's very welcome).
I may later on send a few native weapons, I have many, but can only send the small things as it would be very hard trying to get a 12ft. spear in a mail bag, eh? I would send you some Emu eggs (a beautiful mottled dark green) but they would almost certainly get smashed (as big as an ostrich egg but very pretty) these birds are very good eating about eighteen months, but old ones are like leather the meat is like rump steak & the two legs & loin weight about 50lb in a full grown bird, the Bungarra is very good eating & tastes like smoked haddock & the flesh looks just like haddock.
I am pleased to say that all are well at home except poor Fan & Jack is in work still.
I must conclude with fondest love to you both from
Will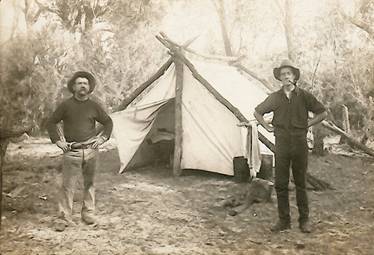 William Bowden (right) in camp. Location unknown.
Although malaria is not currently considered a risk in Western Australia it was in the past.
Barbara Coppin commented "bung eye flies" were not too bad providing they didn't get you in both eyes at once. Frederick Cammilleri recorded
"The flies at this time of the year were no doubt a curse, and some of the men were continually getting bung eyes. Clarke's Eye Lotion was the cure, and in lieu of that, tobacco juice"
.
Cammileri p19.
This is probably trachoma, which was often called "sandy blight". It is thought that the early European settlers brought trachoma with them. Sandy Blight Junction and the Ophthalmia Ranges were both named for this infection. The improvement of living standards has all but led to its disappearance.
"Policeman flies" are small predatory wasps of various genera which pray on flies; some species have been recorded carrying these flies to their nests where they are stocked as food for the wasp larvae.
Houston.
A popular and inexpensive breakthrough came with flypaper, which became available from 1885 onwards. The sticky resin-coated strips of paper or film, which also contained a sweet attractant such as molasses, trapped the flies as they landed on it. Flypaper was quite effective against houseflies, albeit the method relied on the insects cooperating in their own demise.
Rozcki p27.
According to the author Ion Idriess,
"The reason why bushmen have named the estuarine crocodile the "alligator" is to distinguish it from the Johnstone River crocodile".
Idriess p31.
The Saltwater or Estuarine Crocodile (
Crocodylus porosus
) is one of the most feared of all animals due to its ferocious nature and often massive size (up to seven metres) whereas the Freshwater or Johnstone's crocodile (
C johnstonii
) is not usually dangerous to people. In Western Australia Saltwater crocodiles inhabit the open ocean, seashores, mudflats, estuaries and rivers along coastline of the northern Pilbara and the Kimberley.
Thomson pp4,8.
On the 18th January 1945, the Commonwealth Gazette announced that William James Bowden, a senior lineman with the PMG would be retiring "as from the close of business on 1st March 1945" thus ending a career of almost 31 years. He retired early due to a problem with his hands.
Clarke
.
Will died on 11
th
December 1963 and was cremated at Karrakatta Cemetery, Western Australia.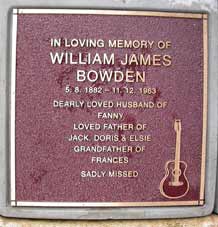 Fanny Manwaring Bowden was born on the 2
nd
September 1879 and died 17
th
April 1960.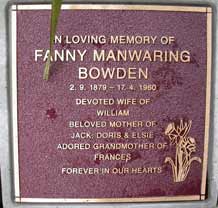 Acknowledgements:
Elsie Clarke nee Bowden, daughter of Will Bowden
Dr Cathie Clement for her advice
Barbara Coppin a Pilbara resident in the 1930's for her help with some of the terms used by Will Bowden
Ruth Luyer for practical assistance
Trustees of the National Maritime Museum, Greenwich, London, England for permission to reproduce the photograph of the SS
Australind
Victoria Martelli, great granddaughter of Will Bowden
References:
Australian Government (1945)
Commonwealth Gazette
No 14, 18 Jan 1945 p149.
Cammileri, F (1986)
Chasing the Weight 1886-1912
. Hesperian Press
Clarke, Grace Elsie. Personal communication.
Collins, Ivy (I.C.). Family records.
Department of Land Information (DLI) Geographic Names Database, Perth WA.
Eyre, Edward John (1845)
Discoveries in Central Australia and Overland from Adelaide to King George's Sound
Facsimile Edition (1997), Friends of the State Library of South Australia
Hope & Klem (nd) (a) Flemington Estate [Battye Library - Cartographic material]
Hope & Klem (nd) (b) Conwil Estate No. 2, South Perth [Battye Library - Cartographic material]
Houston, Terry (2005) Personal communcation.
Idriess, Ion (1946, 1950 reprint)
In Crocodile Land
A&R
Lawrence, J (1945) "Perth to Adelaide Telegraph Link" in
Early Days
Journal of the Western Australian Historical Society pp38-52 Vol3 Pt 3
Laurie, Maxine (1999)
Ever Flowing Forward: The Story of Belmont
City of Belmont.
Martelli, Victoria. Personal communcation.
Moyal Ann (1984)
Clear Across Australia: A History of Telecommunications
Nelson, Melbourne.
Rozcki, Jack (2006) Pestilence: Fear and loathing and flies in
Australian Geographic
No 81 (Jan -Mar)
Thomson, Carloyn et al (1996)
Hazardous Animals of North-Weatern Australia
CALM
Uren, Malcolm (1940)
Trinders pioneers: being the story of the historic association of Trinder, Anderson & Company with the state of Western Australia and how they both grew and flourished in concert.
Western Australian Genealogical Society (WAGS)
Passenger Arrivals in Western Australia 1898 - 1925
© 2007, 2012 John Luyer, Ivy Collins and others. Will Bowden's letters and log © the descendants of William James Bowden.