Some Western Australian History & Some Family History & Some More
Credo Station - Eastern Goldfields
[Please note some of the links on this web page lead to pages that are computer generated from information held in a database and therefore do not always read perfectly].

Introduction
This web page documents some of the history of Credo Station prior to its acquisition in 2007 by Western Australia's Department of the Environment and Conservation. Like most pastoral stations, Credo has had many boundary changes over the years.

It seems that most of Davyhurst Station of earlier years was added to the Credo lease.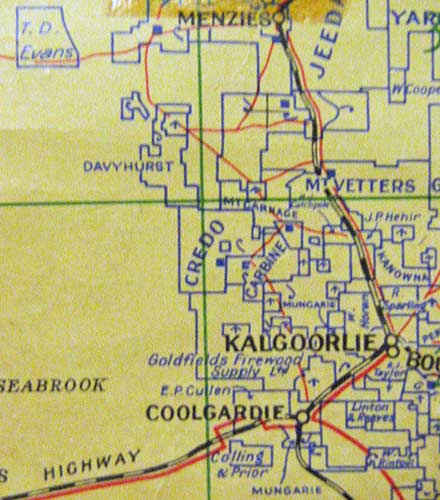 Portion of map published in 1944 showing Credo and adjoining pastoral stations.
Davyhurst Station
John Patrick Fitzpatrick was the first holder of Pastoral Lease 2156/102 of 13,000 acres. It was probably in the vicinity of Mulwarrie, where JP Fitzpatrick was the publican at the Mt Higgins Hotel. It seems that the land covered by this lease was later included as part of Davyhurst Station. The unfortunate John Patrick Fitzpatrick declared himself bankrupt in 1905. His widow, Bridget Teresa Fitzpatrick (nee Walsh) later took over the lease.

John Patrick Fitzpatrick's Family Tree

This parcel of land later became known as Davyhurst Station.

Credo Station
Credo Station was held by the Halford family for many years. The Halford family is well known for its trek from South Australia to Kalgoorlie. William Halford, his wife Elisabeth, with their sons and daughters set out from Mintabying in June 1903 and arrived at Bulong near Kalgoorlie in December 1904. Places they passed through included Fowler's Bay, Colona, Eucla, Mundrabilla, Madura, Twilight Cove, Cocklebiddy, Balladonia, Karonie and Randalls.

Under the leadership of William Henry Halford, the family set up the Overland Dairy near Kalgoorlie; started running cattle at Binyarinyinna (Binyarinyinna Rock is some distance south-south-east of Kalgoorlie on the edge of Lake Cowan) and started acquiring pastoral leases. It seems they set up a homestead at Black Flag with Credo as an outstation.
The Naming of Credo Station
Credo is a Latin verb with a variety of meanings depending on the way it is used. Some of the meanings are "I believe", "I trust" and "I commit". The Latin form of the Apostles' Creed starts with the words Credo in Deum Patrem omnipotentem which translates to I believe in God the Father Almighty.

One story has it that Credo Station was named by a Benedictine monk from New Norcia.

Another possibility is that it was named after the Credo Mine near Broad Arrow. This mine is not on the property but the Halfords had owned land around the Credo Mine. The Credo mine was purchased by E Parker of the London and Coolgardie Investment Syndicate in June 1896. Later Ada Halford was to marry Rodney Parker in 1945. Was Rodney Parker a descendent of E Parker? It is recorded that Rodney Parker's father worked on mines around Broad Arrow.


Dams and Bores
Numerous dams existed on Credo (including the former Davyhurst Station). Some had rather unimaginative names such as Sixty One Dam while others had typical outback names such as Nugget on the Fence Dam (said to be named after somebody nicknamed Nugget) and Speedy's Last Dam. Who were Speedy and Nugget?

Ernest Giles
The explorer Ernest Giles passed through the land that is now Credo in October 1875.

At Ularring Rock Ernest Giles and his party had an unfortunate encounter with the local aboriginal tribe. For an artist's illustration of the skirmish at Ularring see Australia Twice Traversed by Ernest Giles.

Towns
Some old town sites were excluded from the pastoral leases.

Callion was gazetted as a townsite in 1897. Prior to that time the area was referred to as Speakman's Find after the prospector James Speakman who found gold there in 1896.

Davyhurst was also known as Mace's Find and Davyston. The town was gazetted in 1901.

Mulwarrie was gazetted in 1900. Until that time it was known as Mt Higgins. Mulwarrie is assumed to be of local aboriginal origin but it is also possible it was named after Mulwarrie in the Victorian goldfields. Many of the people on the WA goldfields came from that state.

Cemeteries and Lonely Graves
For a list of burials at the Davyhurst Cemetery see And All So Far From Home.... (Moya Sharp)

According to a sign at the Mulwarrie Cemetery the following are buried there:
John Church (age 1 day; 3/12/1902, son of Ernest Archibald Church and Amelia Rawley)
William James Pym (age 5 weeks, 4/5/1903, son of Robert Daniel Pym and Rebecca Eliza Loudon)
Eveleyn M Fitzpatrick (stillborn, 1/10/03)
Alice Mary Fuhrmann (age 34 years,childbirth,5/10/03, wife of George Fuhrmann, daughter of Bernard (father)and Mary Hannen)
Thomas Hilton Hewitt (age 39 years, asthma 5/6/04, son of William George Hewitt and Mary Ralph)
James Edwin Shiels (age 21 years, typhoid 30/11/1904, son of James)
Eileen Fay Kearns (6 weeks, 21/5/1905, daughter of Emily Kearns)

The Gus Luck Track
The Gus Luck Track which runs from Yellowdine on the Great Eastern Highway to Goongarrie passes through Credo Station.

Mines
A significant number of mines are scattered through the area. The first find of significance seems to have been made by the prospectors Speakman, Ryan and Erikson at Ullaring in 1891 but there was no gold rush as a result.

The North Coolgardie Goldfield was officially proclaimed in the Government Gazette in 1895. In 1896 this goldfield was subdivided into the districts of Ularring, Menzies, Yerilla and Mount Margaret.

In April 1901, the owners of the Moonshine Mine at Mulwarrie crushed 30 tons at the Government Battery yielding 298oz 10dwt of gold. This was a record return for a government battery.

Woodlines
The gold mines used timber as fuel for their furnaces and a major source of this firewood was the "woodlines", or bush railways. The woodlines had reached Credo Station by 1905.

References
Department of Attorney General - Western Australian online birth death and marriage indexes (accessed September 2008)

Department of Lands and Surveys Map of Western Australia Shewing Localities of Sheep and Cattle Stations 1944. Published at a scale of 1 inch = 30 miles

Halford, E.P.(1931) Pioneers of Yesterday: The Overland Trip from South Australia to Western Australia, Accomplished by the Halford Family Imperial Printing Co Perth, W.A

Jaggard, Edwin (1977) "The Overlanders" in Saturday Review, The West Australian 12 November 1977 Perth WA

King, Norma (1988) Daughters of Midas: Pioneer Women of the Eastern Goldfields Hesperian Press, Victoria Park WA

Landgate History of country town names (accessed September 2008)

Maitland, A Gibb (1919, 1984 reprint) The Gold Deposits of Western Australia Hesperian Press Victoria Park WA

Photograph of sign at Mulwarrie Cemetery, taken by Lloyd Walker, Credo Station in 2008

Reid, Arthur (1933, 1985) Those Were the Days Hesperian Press, WA

State Records Office Cons 3871 Item 1903/13817 v3 Eastern Division. J.G. & E.E. Halford, J.P. & B.J. Fitzpatrick, A.R. Lichberg, R.C. Wilkinson, H.G. Cadby. PL 3308 - 102 Mulwarrie.

State Records Office Cons 3560, Item 1905/020 [John Patrick] Fitzpatrick

Webb, M & Webb, A (1993) Golden Destiny: The Centenary History of Kalgoorlie-Boulder and the Eastern Goldfields of Western Australia City of Boulder WA

Additional Information
Photographs, corrections and addition information welcome.