Some Western Australian History & Some Family History & Some More
Arthur Edward Geere

1887 - 1951
Arthur Edward Geere was born in the UK on the 18 October 1887. He was one of the five children of William Arthur Geere and Fanny Tarrant. In 1916 he gave his mother's address as Fisholm, Montacute Road, Tunbridge Wells, [Kent] England.

AE Geere spent four years as an apprentice to the South Eastern and Chatham Railway Company.

Following his apprenticeship it is likely that he worked for Vickers.

He was issued a pilot's license number 310 on the 1 October 1912 by the Royal Aero Club of the United Kingdom.

Copy of license



In 1913 AE Geere emigrated to Australia, leaving Liverpool on the Zealandic and arrived in Fremantle on the 8th November. His age was recorded as 27 and occupation as engineer.

In 1914 or 1915 he joined the Kalgoorlie Aero Syndicate which built an aeroplane which was to become known as the Kalgoorlie biplane. He was the syndicate's pilot.



Ted Geere was one of the pioneering members of the Goldfields Motor Club which was formed in April 1914. The Club arranged the first motor races at the dry claypan called Lake Perkolilli near Kanowna. The young motorcyclists rode the fastest machines in the Goldfields and the circular two mile track enabled them to vent their enthusiasm for speed. Ted Geere initially owned a small-capacity Douglas motorcycle. He won one of the first races ever run at the lake riding a more powerful American-made Indian motorcycle in the over 3Hp race at the first event in June 1914. Like many of the early racers he went off to war and a new crop of enthusiasts returned to Perkolilli in the post-war years. Graeme Cocks of Motoring Past


Served as a pilot during WW1 and attained the rank of Captain. Discharged on medical grounds.

NAA B2455.



In 1918 he married Emily Madge Sophia Hatch. It seems the couple did not have any children.

Following the war, Geere submitted a number of inventions and suggestions to the authorities. One his suggestions (April 1945), sent to the Army Inventions Directorate was for the conversion of "army huts into cottages". The response from the Army was to the effect that this idea was already under consideration. An earlier idea (1943) was for a parachute made from the same paper as cement bags for dropping supplies.

NAA MP76/1.



Arthur Edward Geere was called Ted by the Hatch family. Ted and Emily lived at 12 Barry Street Kew in Victoria from at least 1945. He died on the 14 March 1951 and was buried at Box Hill Cemetery. After Ted's death, Emily moved to 17 Percy Street Balwyn.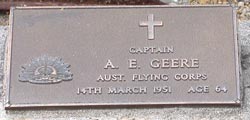 Note
In 1985 Geere Court, a street in the Hannans locality of Kalgoorlie was named to commemorate the Geere family who helped pioneer the district.

DLI

.

Richard James Gamman Geere (1870-1945) and his wife Amelia Sarah nee Lawrence (? - 1948) were shown as living at 71 Hanbury Street by 1914 and lived there for many years. They had two sons, Richard Lawrence (c1906-1971) and Edward (Eddy) James (1908-1989); and a daughter Doris Elizabeth.

Eddy Geere and his wife Doris (c1910-1989) were both very active in the Kalgoorlie community. Eddy, with Doris's assistance ran a refrigeration business for 35 years.

Anon



Edward James Geere and Arthur Edward Geere were second cousins.

Geere



Acknowledgments:
Graeme Cocks
Jeremy Geere
Bill Pritchard of Pritchard Project Consultants Pty Limited, Mont Albert North, Victoria.

References
Anon "Jolted out of Geere" in Kalgoorlie Miner March 7 1981
Dawson EA (1997) What's in a name? Street Names of Kalgoorlie-Boulder Eastern Goldfields Historical Society (WA)
Department of Land Information (DLI) Geographic Names Database
Geere, Jeremy (2006) Personal communication.
National Archives of Australia (NAA) B2455, Geere AE
National Archives of Australia (NAA) MP76/1, [Inventor/Submitter -] A E Geere - Alteration of army huts into cottages
National Archives of Australia (NAA) MP76/1, [Inventor/submitter -] A E Geere - Dropping supplies by parachute