Some Western Australian History & Some Family History & Some More
An Early Map of the Western Australian Goldfields
This map is referred to on the Payne Family webpage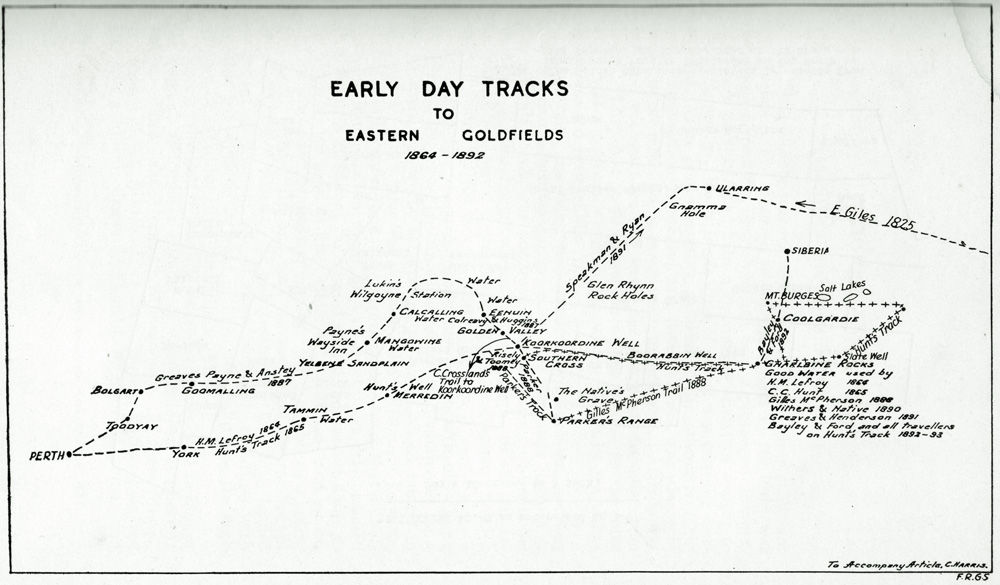 Map produced by Charles M Harris FRGS (elected December 1946), penname "Diorite"
Some explorers, prospectors and others mentioned on the map and suggested references:
C Crossland's Trail to Koorkoordine Well
(Charles Crossland)
See Thomas Risely's account at Gold Mining in Southern Cross WA Western Australia
Ernest Giles
Ernest Giles (1889) Australia Twice Traversed: The Romance of Exploration, being A Narrative Compiled from the Journals of Five Exploring Expeditions into and through Central South Australia, and Western Australia, From 1872 to 1876. Numerous editions, some online.

Ericksen, Ray (1978) Ernest Giles: Explorer and Traveller 1835-1897 Heinemann, Melbourne
Greaves, Payne & Anstey
Greaves, Dick (?1903) The Golden West and How it was Discovered Hesperian Press (1981)Victoria Park
CC Hunt (Charles Cooke Hunt)
Duggan, Francis Peter (2008) Florrie from the Kings' Table: her Ancestry Chisholm ACT
HM Lefroy (Henry Maxwell Lefroy)
Gillies McPherson
Payne's Wayside Inn
(Joseph Charles Payne & later his widow Pauline)
Golden Valley – Knutsford
Parker's Track
Speakman & Ryan
(James Speakman)
Route not shown on this map but an important reference
Brooker, Lesley (2006) Expedition eastward from Northam : by the Dempster brothers, Clarkson, Harper and Correll, July-August 1861 Hesperian Press Carlisle W.A.