Some Western Australian History & Some Family History & Some More
Ethel Violet Webster

Ethel Violet Webster

3 July 1895 - 1 March 1987

Ethel Violet Webster was born on 3 July 1895 at Bethnal Green, Hackney, Middlesex, England. She was the last of the nine children and the fourth daughter of William James Webster (1853-1928) and Elizabeth Amelia Aburn (1853-1938). Her parents married in 1874 in Whitechapel in England.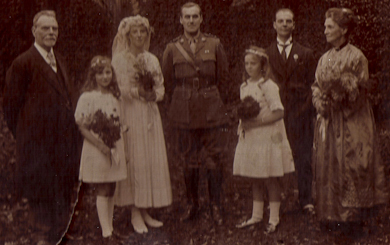 The Wedding of Ethel Violet Webster and Robert (Bert)

Marriot William Webster, 10 October 1918.

L to R:

William James Webster

(father of the bride); unknown;

the bride, Ethel Webster; the groom, Bert Webster; unknown;

Ernest Webster

(brother of Ethel) and

Elizabeth Amelia Webster


(mother of the bride)

In October 1918 Ethel Violet married her Australian cousin Captain Robert Marriot William Webster MC. Bert, a doctor, was the son of Ethel's father's William James Webster brother Joseph John Webster (1863-1948) and his wife Annie Marriott (1866-1949). Also Ethel was connected to her husband through her mother Elizabeth. Ethel's first cousin James William Beaven married Eliza Marriott who was her husband Robert's aunt.

Ethel and Bert had three children William John (15 May 1920-1987), David Aburn Webster (29 September 1921 - 1982) and Elizabeth (Betty) Nancy Webster (24 July 1923 - 2 August 2010).

William remained single all his life. David was in the Royal Australian Navy during WWII. Whilst in the Navy he married Agnes (Cissie) in October 1943. He and Cissie had two children, a son and a daughter. Betty attended Methodist Ladies College (now Scotch Oakburn College) in Launceston, Tasmania. About 1965 Betty married Gerald (Gerry) Basil Stainthorpe (1914 - 27 September 1999). Initially they lived in Victoria but later moved to Western Australia where Gerry worked for the Royal Automobile Club.
To be continued...

Acknowledgments:
Lynne Cheshire
Clare Talbot (Webster)