Some Western Australian History & Some Family History & Some More
Percy Webster

Managing Director WJ Webster Ltd

Percy William Edge Webster

5 February 1876 - 20 February 1942
Percy William Edge (or William Percy Edge) Webster was born in South Hackney, England on the 5 February 1876. He was the first born of William James Webster (1853-1928) and Elizabeth Amelia Aburn (1853-1938). His parents married in 1874 in Whitechapel in England. The reason for the name 'Edge' is not known.
As the oldest boy in the family he was the first to attend the Turin Street School in Bethnal Green. He started there in June 1883. He had an eight week absence due to illness.
Percy was employed in the family business operated by his father William James Webster. In 1900 the picture framers, Butt & Co. was acquired for Percy to manage. Following the death of William James Webster, the company WJ Webster Ltd was formed with Percy as the Managing Director. Three of his brothers, Sidney, Ernest and Walter were the other directors.
In 1929 Percy Webster and Frank Alfred Hutson applied for a patent for "An improved screen or display stand" ... "for the display of articles, for example, in shop windows and similar places".
Percy married Florence Mabel Landon (1876-1950) on the 5 September 1900 in South Hackney. She was the daughter of William Henry Landon and Eliza Esther Bellamy. During the Second World War they lived in Bell Common, Epping, Essex.
Percy and Mabel had three children, Geoffrey Percival (4 Nov 1902 - 1975), Sylvia Mabel (4 Nov 1907 - 1976) and William Basil Landon (2 Jun 1914 - 22 Dec 1941).
In the 1901 Census, Percy, a wholesale picture frame manufacturer, is shown as living less than a mile from the family home ("Ashleigh") at 23 The Avenue, Walthamstow. With him are his wife Florence and a servant Kate Parker who is aged 15.
Little is known about their children. Geoffrey visited Mozambique returning from Lourenço Marques on the RMS Arlanza on 8 August 1935. Lourenço Marques is now known as Maputo. It is not known if Geoffrey married or had any children.
Their daughter Sylvia married F Robert Hutton in 1930 and they brought up two boys. One younger relative described Sylvia as really great fun and rather eccentric and another said she never stopped talking and as a consequence in most of the pictures I've seen of her she has her mouth open in full flow.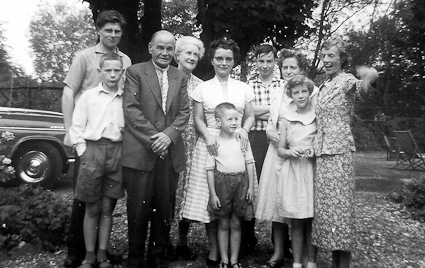 Family group at "Old Sycamore" Bell Common, about 1961.
L to R: Jasper Hutton with a young cousin in front;
Walter Webster
(Percy's brother); Phyllis (Walter's wife);
Patricia (daughter of Walter and Phyllis) with a young cousin in front;
Nicholas Hutton; Lucy (daughter in law of Walter and Phyliss)
with her daughter Clare in front & Sylvia (Percy's daughter).
In 1936 William changed his name by deed poll from 'William Basil Landon Webster' to 'William Landon'. At the time he gave his address as "Ashleigh", The Bridle Path, Woodford Green. However it seems the name change was short lived. During World War II Basil was a member of the Royal Army Service Corps where he graduated from the Officer Producing Centre on April 20 1940 as Second Lieutenant 'William Basil Landon Webster' and later achieved the rank of Captain. He died during the war, probably from war injuries. He is buried in a war grave in St Margaret's Churchyard, Bethersden, Kent.
Percy William Edge Webster died in Essex, England on 20 February 1942 at age 66. His burial place is unknown. His wife Mabel died on 28 January 1950.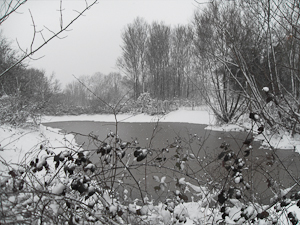 ©Christine Tolman
Frozen Pond, Bell Common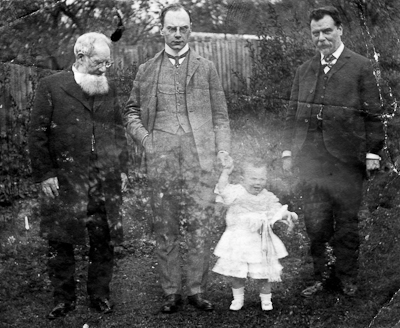 Four generations of Webster
(L to R): William (grandfather), Percy, Geoffrey (son),
William James
(father)
Taken ca 1903 at the family home,
"Ashleigh"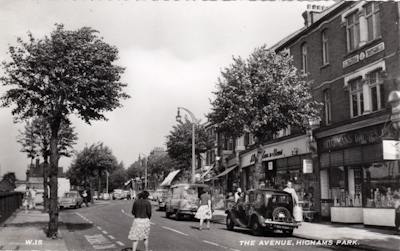 A section of The Avenue, Highams Park about 1950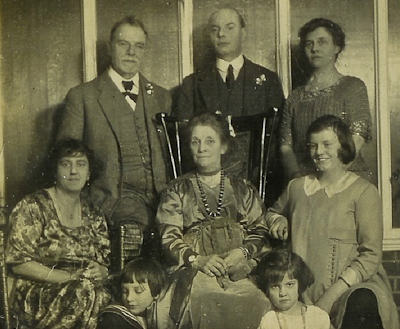 Family about 1919. Photo probably by
Ernest Webster
Back Row(L to R):
William J Webster
(father), Percy,
Lily Southwick
(sister)
Middle Row: Mabel (wife),
Elizabeth
(mother), Sylvia
Front: Basil (son), Mary (Percy's niece)
Note: Percy William Edge was how his name was recorded in a family bible. He was known as Percy in both family and business life. However his name may have been registered at birth as William Percy Edge and it seems William Edge Percy was also used on occasions.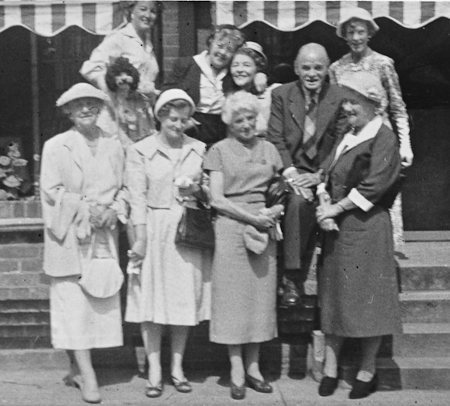 Webster family group about 1959. Photo by Russell Webster.

Back Row (L to R): Ann Mumford (with Harley the dog),

Winnie Jury, Rosaline Braine (Percy's sister),

Walter Webster

(brother) & Sylvia Hutton (daughter).

Front Row: Vi Williams, Lucy (daughter in law of Walter & Phyllis),

'Bobby' Webster

(sister-in-law of Percy), Phyllis (wife of

Walter

).

Acknowledgments:
Diana Burns
Ivy Collins
Lynne Cheshire
Richard Marshall
Clare Talbot (Webster)
Tony Webster

References:
Ancestry.com England & Wales, National Probate Calendar (Index of Wills and Administrations), 1858-1966 [database on-line]. Provo, UT, USA: Ancestry.com Operations Inc, 2010.

Ancestry.com London, England, School Admissions and Discharges, 1840-1911 [database on-line]. Provo, UT, USA: Ancestry.com Operations, Inc., 2010. This collection was indexed by Ancestry World Archives Project contributors.

Austin, F Searle (1953) The Webster Saga: Being the Story of Enterprise and of a Family Business in London 1853 – 1953. WJ Webster Ltd London.

European Patent Office Espacenet website accessed January 2012.

Supplement to the London Gazette. 26 April 1940.