Some Western Australian History & Some Family History & Some More
The Bridle Path - Oak Hill - Woodford Green
Epping Forest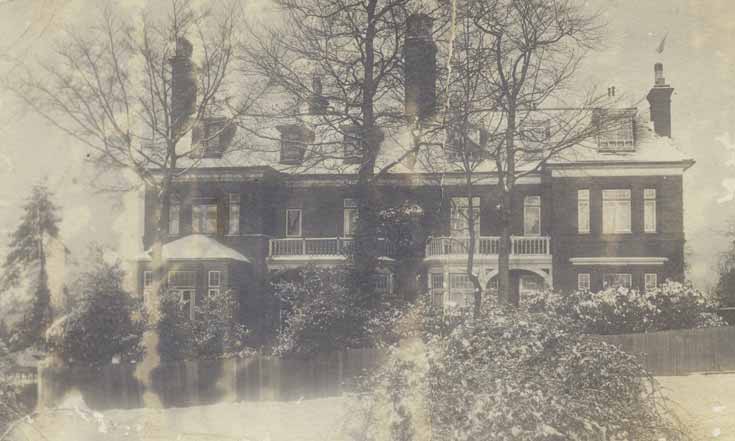 Ashleigh
and
Wood Advent
, The Bridle Path
The image is taken from a 1914 photograph in a family album. It was labelled Ashleigh. Ashleigh was actually semidetached with the other part named Wood Advent. It is believed Ashleigh was on the left (west) and Wood Advent on the right (east). The building was in The Bridle Path, Oak Hill, Woodford Green, Essex UK. The Bridle Path was known for a time as Cottingham Road.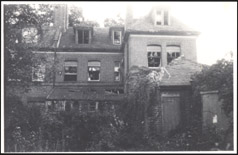 Ashleigh
from the rear (1948)
Ashleigh was home to John's great grandparents, Elizabeth Amelia Aburn (1853-1938) and William James Webster (1853-1928). His maternal grandmother, Rosaline Florence Webster (1890-1984) spent her formative years there. William and Elizabeth's other children were Percy William Edge, Ernest James Aburn, May Rosinah Amelia, Sidney Mallett, Lilian Frances, Walter Walsh, Russell, and Ethel Violet.
The 1911 census listed William James and his wife Elizabeth, four of their children (Ernest, Lilian, Russell and Ethel Violet), Henry Braine (who later married Rosaline) and a domestic servant Jessie Smith.

Wood Advent was occupied by George Henry Brewer (1858-1925) and his wife Ruth Langdon Brewer nee Bygrave (1859-1949). Wood Advent was named after the farm that George's brother Herbert managed in Somerset. Ernest Webster (1877-1960) married their eldest daughter, Constance Mary (1884-1969) in 1912. Note: Ernest was a subscriber to the monument in Woodford Green opposing the war in Abyssinia.

Ashleigh and Wood Advent are not still standing. The builing was demolished in the 1950's and replaced with a block of apartments known as St Patrick's Court.
| | |
| --- | --- |
| Shooting at Hooper's | The picture to the left is of Rosaline Webster and her husband to be, Henry Braine (they married in 1914). The 1907 Kelly's Directory lists Samuel Richard Hooper living nearby in Hale End Road at Fernlea House and Mr S R Hooper attended the funeral service of William James Webster. |
| | |
| --- | --- |
| The lodge in (or near) Higham's Park further east along The Bridle Path. The building is still standing. | The lodge, The Bridle Path, Oak Hill |

Thanks to Ivy Collins of Bungay for researching the history of "Ashleigh".