Some Western Australian History & Some Family History & Some More




Rosaline Florence Braine nee Webster

28 May 1890 - 13 September 1984
Rosaline Florence Webster was born on 28 May 1890 in London, Middlesex, England. She was the eighth child and the third daughter of William James Webster (1853-1928) and Elizabeth Amelia Aburn (1853-1938). Her parents married in 1874 in Whitechapel in England.

This was recorded by Rosaline Braine's daughter, Deirdre, in March 1979:
I remember sailing in the S.S. Runic as a bride arriving at Albany in February 1914, and travelling by train to Perth seeing for the first time Blackboys and Jarrah trees and Red Gums, arriving in Perth and staying at the Esplanade Hotel. I had washed my long hair on board ship with sea water which had made it very unmanageable so I tried to find a hairdresser.

My husband [Henry Edward Braine] eventually tracked down a barber in Murray Street whose wife would wash it for me. So up some uncarpeted stairs I went where his very pleasant wife had a kettle on a gas ring and an enamel bowl, she washed it and dried it strand by strand with vigorous rubbing with a towel, she charged me 5/-.

I walked up Mount Street which was quite a hill to climb in a hobble skirt which was then highly fashionable in England but had not arrived in Perth, and people turned to stare at me, was it the hobble skirt, or the suit being made of blue serge which was very hot in February in Australia?

Kings Park I thought was beautiful especially the view of what I was told was the Swan River, it looked like a lake to me.

Every or nearly every town in England has its High Street but Perth spelt it Hay Street. There were two wheeled vehicles called Sulkys which was a strange name as they were jaunty rather than sulky and four wheeled vehicles called Buggys which sounded a rude word to me.

I was taken to the only restaurant for a cup of tea, it was called the Moanna [Moana], there were long trestle tables with forms to sit on - strange. [Saul Epstein was the proprietor of the Moana Cafe which claimed "Everyone who is anyone goes the Moana Cafe Perth. Where the highest quality is available in most cosy surroundings".]

We left Perth by train for the South West where we had leased a small farm for five years, it had ten acres of orchard and we ran a few sheep, had three cows and six pigs. I learnt to milk the cows, use a separator and make butter in a churn. Also make yeast from hops and sugar and water, put into bottles with the corks wired down. I used the yeast when ready to make bread I also fed the pigs. I, who had, in England, never done a menial task not even peeled a potato. As well as all that I gave birth to my first child.

Was not that quite an achievement for a young Pommie bride?


SS Runic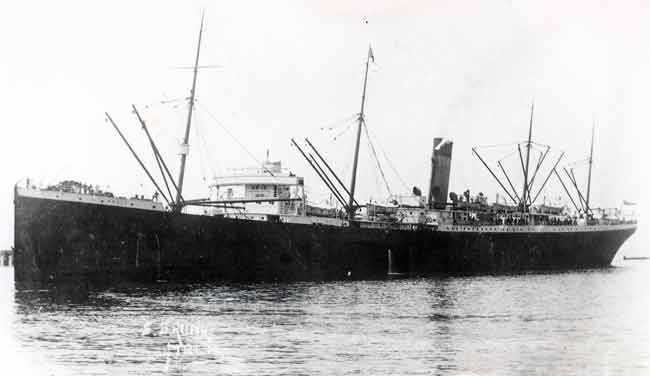 It is thought that this picture of the SS Runic was taken in 1910 in Port Melbourne Australia. The Braines arrived in Albany in February 1914. A photograph of the vessel in Albany Harbour taken in 1915 by Signaller JP Campbell is in the National Library of Australia.
The Opening of London Court
When London Court arcade (between St Georges Terrace and Hay Street) opened in July 1937 an Old English Fair or "Ye Olde English Fayre" was held to raise funds in support of the Perth Hospital (later Royal Perth Hospital). Rosaline Braine was a member of the Dramatic Committee for this event.

The St Georges Terrace end of London Court


Penguin Club
The Penguin Club of Australia conferred Life Membership on Rosaline Florence Braine "for her outstanding service to the Club".

The [Perth] Repertory Club (Incorporated) and other groups
Some plays that RF Braine performed in:
September 1923 - Christopher Morley's Thursday Evening (played Mrs Sheffield)
December 1923 - Douglas Murray's The Man From Toronto (played Ruth Wimbush)
June 1925 - Maurice Maeterlinch's The Intruder [L'Intruse] (played the Sister of Mercy)
July 1925 - Hastings Turner's Lilies of the Field (played Anne Head, the wife of the vicar)
March 1926 - W Somerset Maugham Our Betters
March 1926 - J M Barrie's Dear Brutus
March 1926 - Lady Arthur Lever's Brown Sugar
June 1927 - The Optimist (Lady Forrester)
June 1928 - James Barrie's Barbara's Wedding (played Ellen, the Colonel's wife)
September 1928 - Noel Coward's The Young Idea
October 1933 - Norman McKinnel's The Bishop's Candlesticks (The Bishop) - all female cast
May 1934 - Anton Chekhov's The Cherry Orchard (Madame Ravensky)
July 1936 - Nine Till Six
August 1935 - The Pelican (Lady Herriot)
August 1936 - Eugene O'Neill's Anna Christie (Marthy Owen)
August 1938 - Norman Ginsbury's Viceroy Sarah (Sarah Churchill, the Duchess of Marlborough)
April 1937 - Betty Roland's A Touch of Silk (played the ill-tempered mother-in-law)
July 1937 - Jean Cocteau's The Infernal Machine (played Jocasta)
May 1938 - H. M. Harwood's So Far and No Father (played Mrs Sidebottom)
November 1939 - George Landen Dann's No Incense Rising (Mrs Bergmann)
March 1940 - J.B. Priestley's Time and the Conway's
December 1940 - Henrietta Drake-Brockman's Hot Gold
August 1943 - Family Affairs
April 1945 - Ladies in Retirement
October 1950 - W. C. Sellar and R. J. Yeatman's 1066 and All That (played Queen Elizabeth, Queen Anne)
May 1951 - Before the Party


Trinity College of Music London
Rosaline Braine held a Teachers Diploma in Elocution from the Trinity College of Music London and was admitted to the position of Licentiate (LTCL) in December 1922. The examiner was Dr C Edgar Ford.

Pastimes
Bridge, Cribbage, Cryptic Crosswords, Tapestry.

At the 1968 Royal Show conducted by the Royal Agricultural Society of Western Australia Inc., Rosaline Braine won the second prize (of $1) in the Home Industries section "Any Other Article Not Provided For"

The Australian Dictionary of Biography
The Australian Dictionary of Biography states "Rosaline Braine had served in the women's auxiliary services during World War II and was active in the Perth Reparatory Club and as a charity worker".

Cunneen p44.

Searches of The National Archives of Australia's RecordSearch facility have failed to find any record of Rosaline serving in either the Women's Auxiliary Australian Air Force (WAAAF) or the Australian Women's Army Service (AWAS). It is also considered unlikely by family members, as there are no recollections of this service and no memorabilia held by the family to support this. She did produce St John Ervine's play Robert's Wife in aid of the Spitfire Fund.

References:
AusStage website accessed 18 April 2007
Cunneen, Christopher (ed) (2005) Australian Dictionary of Biography: Supplement 1580-1980 Melbourne University Press
National Library of Australia Digitised Newspapers and More website
The Repertory Club (1939) The Repertory Club (Incorporated) presents "No Incense Rising" by George Landen Dann